We spoke to Molly Marshall who takes all the stress away with her expert Home Staging. We followed her at the beautiful Wybourne Gate, Southport in the first video in our Home Staging series.

Keep scrolling for the full blog.
Want to learn more about Molly's process? Read the full interview below
We sat down with Molly for a chat after she had staged Wybourne Gate to find out about what is the process of staging a home and what to consider when coming on the market.
Q. How did you get started in Home Staging Molly?
I got started in home staging when I was approaching 50. I had worked in radio all my life, and I decided I want to do something completely different.
Q. Many get confused between Home Staging and Interior Design, tell us what is the difference?
There absolutely is a big difference in home staging and interior design. They are actually at opposite ends of the spectrum. An interior designer will spend a lot of time with you talking about the way you live the way you spend time in a property, they might do mood boards for you and their aim will be to make an aesthetically pleasing property for you to live in.
Staging is all about preparing a property to sell. It is a marketing tool, nothing else. The aim of staging is to get your property sold quickly for the best price possible.
Q. You have worked with us on many projects, how do you find working with A&P?
Arnold & Phillips employ professional photographers and videographers, which is really important, plus, great for me as it allows you to capture the detail I have put in when staging.
I reached out to A&P when David Arnold came to value my property, I took the opportunity to pitch my business to him over the kitchen table and he was great. He said that he understood and that presentation was really important and so we decided to work alongside each other.
Q. What is your favourite style of property to work on?
I love working on any property! I can see huge positives in any home I walk into, whether it be £50,000, or 5 million, I can always see the positives. I get a buzz from making homes look lovely.
Q. What is your process when staging a home?
There are different types of staging, it can either be a property that's completely empty, which is a blank canvas, which is really easy for me to do.
Or, the more difficult stages are when people actually live in the property and then it's a case of walking around every room and advising on how best to present that room. The biggest hurdle to overcome is clutter. We all have too much stuff and clutter is not good.
I always say to people, this is the first stage now, start packing up, take your photographs down and things that aren't essential. It's the first stage of moving on, which will make your property look clear and tidy.
Q. How many rooms would you typically stage?
If it's an empty property, I will say that you need to stage a minimum of one bedroom and living area.
If people are working to a tight budget, we try to work with what they have with added touches. I always over deliver because I want the property to look nice. It might be the case that I say to people, I will put some fabulous mirrors, some lamps, and some nice new cushions and throws. So, replace what they've got with my items that will make a difference.
Q. Is it all about the furniture or do you incorporate smells? They say baking bread sells a home…
One of the biggest turn offs for people when they come into a house is smells. So I always say put nice diffusers around, it doesn't have to be freshly baked bread or brewed coffee.
Q. How have you seen the property market change over the years?
Since the birth of the internet, what you have to remember is that marketing and your photographs is your shop window. They have to look as good as they possibly can, you only get one chance to make a first impression.
They say that people decide if they like your home or they don't, within the first minute of walking through the front door. So get it ready and go in with a bang, not with a whimper - make it look as good as you possibly can and if you need help give me a call!
Find out more about Molly here
Molly's Top Tips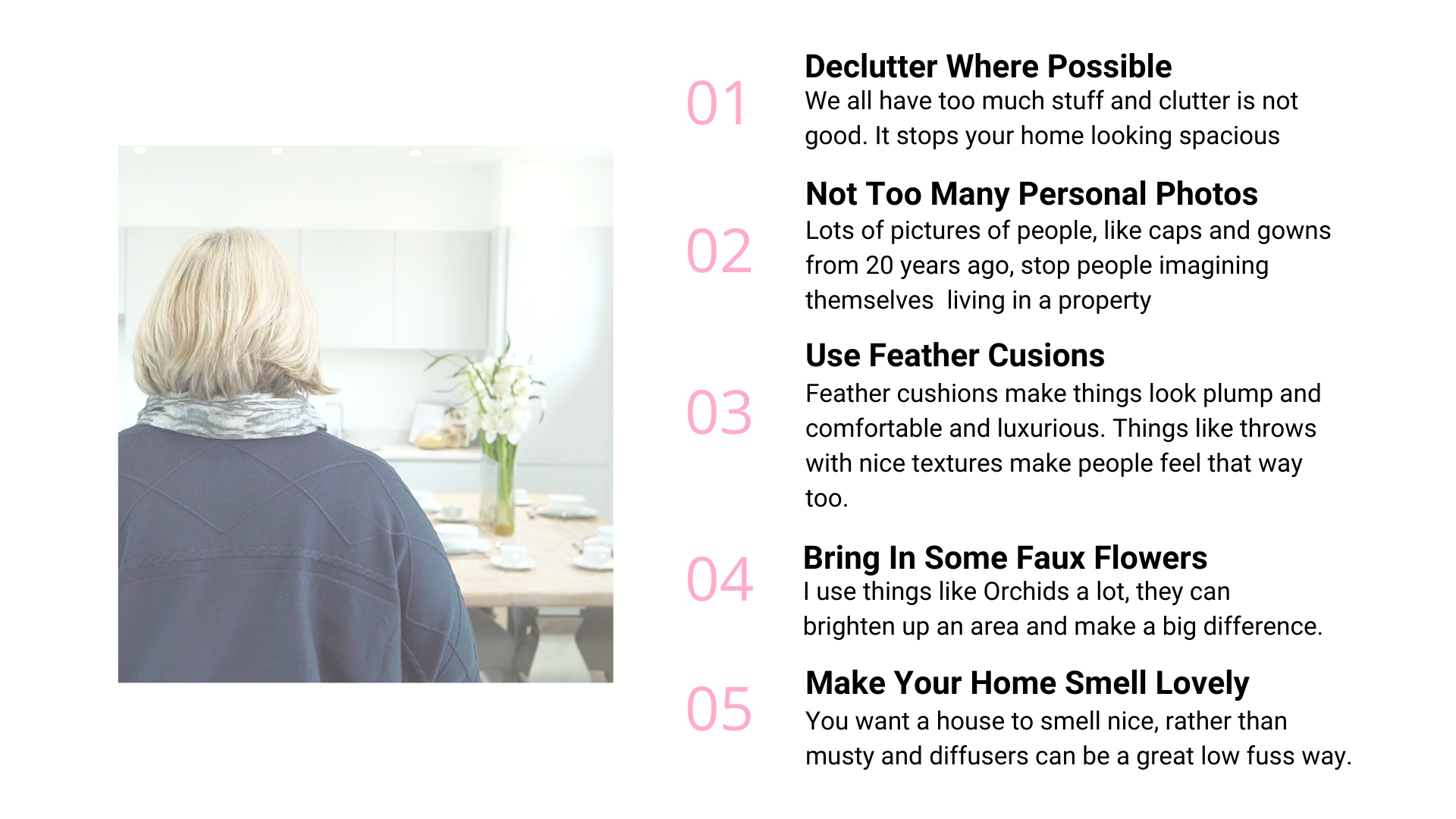 Looking to get on the market?
Get in touch with your local branch and enquire about a no fee valuation or send us an enquiry
here