It's a question we and other estate agents get asked a lot - "How can I increase the value of my home?" - well look no further we can help! Arnold & Phillips have been trading for over ten years and have a wealth of local market knowledge, here are some of our top tips to up your market value and achieve your asking price.
Big Budget Home Improvements
Updating Your Kitchen
Kitchens can often be a big selling point - it is considered the heart of the home and it may be the first thing a buyer would look to replace or pay more for if a property has one they like. If you can update/ modernise a kitchen is can often vastly increase your selling price - desirable features we have seen - Integrated appliances, kitchen islands, bespoke storage solutions (fitted spice racks, pan holders - to decrease surface clutter), and breakfast bars.
Looking to change things on a budget? Updating your kitchen can also be done on a budget - painting units or replacing cupboard handles or doors are great alternatives. Good lighting and clutter-free, clean surfaces can also make a sizable difference!
Updating Your Bathrooms
A new bathroom can often be a costly investment due to plumbing, it will be something you need to consider carefully. In 2019 it was predicted that modern styled bathrooms elevated the cost of a property by around 5% - so it may be worth the cost to get a new one fitted.
Looking to change things on a budget? Update things such as paint, tiles, or grout to prevent any build-up of dirt. It can also help to update your shower enclosure or bath front. New taps or showerheads can also be fitted for a minimal price!
Install A New Heating System
Adding or updating the central heating system will always add more to the value of a property than it costs and should to be done in conjunction with improving the general energy efficiency of the building.
Extensions
Improvements that create a sense of space, such as extensions like - loft conversions, single-story, conservatories, or even garage conversions can be helpful as they add value through square footage. However, if you are considering this - you have to weigh up if an extension will take value off your home e.g. they eat into garden space or prevent off-road parking.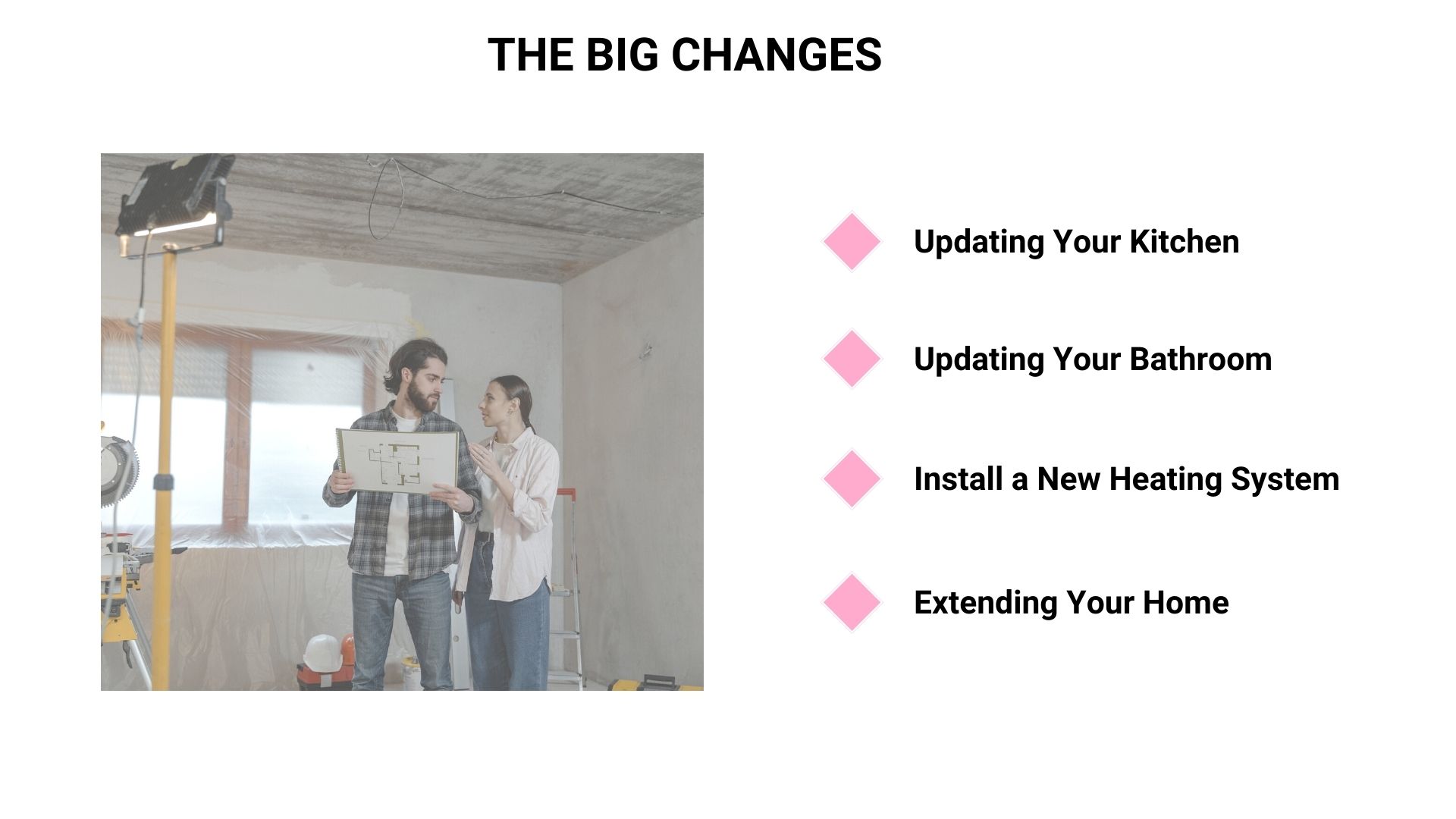 Are big-budget home improvements worth it?
Remember, there will always be a ceiling price for properties in your area or road. No matter how many jaw-dropping home improvements you invest in, your home will never exceed this - so consult an agent for advice.
Smaller Budget Home Improvements
Tidy up the Exterior
Never underestimate the first impressions of a home - a seller makes up their mind in the first few seconds of seeing your property, in Estate Agency often people do judge a book by its cover. So it is important to tidy up the exterior! Paint external walls or jet wash, get a new front door for safety or paint the existing one. It also helps to make sure the garden is well presented and manicured - we also find that a lot of buyers are now looking for outdoor seating - so consider space for patio or decking if possible, as well as additional storage facilities like a shed.
Redecorate
An overall redecoration of your home can make a world of difference, such as removing wallpaper, smoothing over walls, and adopting a neutral colour scheme. These simple and budget-friendly can often make the space brighter and neutral so prospective buyers can imagine themselves in the space.
Adding some simple accessories can also make a world of difference!
Not sure how to accessories Home Stager/ Styler Molly Marshall can help with this - read more here
Create Space
It is very easy for someone living in the house to be used to a lot of accessories or clutter around the home but this can be off-putting to viewers. Yes, it can be tidied but the reality is, if you move it all out of sight, your home will look brighter and more welcoming. You should also consider the position of your furniture. A chair pushed back into the corner of a room might be too far to watch the TV from, but it will open up your floor space, showing the true size of the room – vital for possible new owners.
Add Special Features
For relatively low expenditure in the long-term, you can look at including certain items that will potentially add extra value to your home.
Examples might include:
Security systems to be included - Camera doorbell or entry system
Fitted blinds
New integrated appliances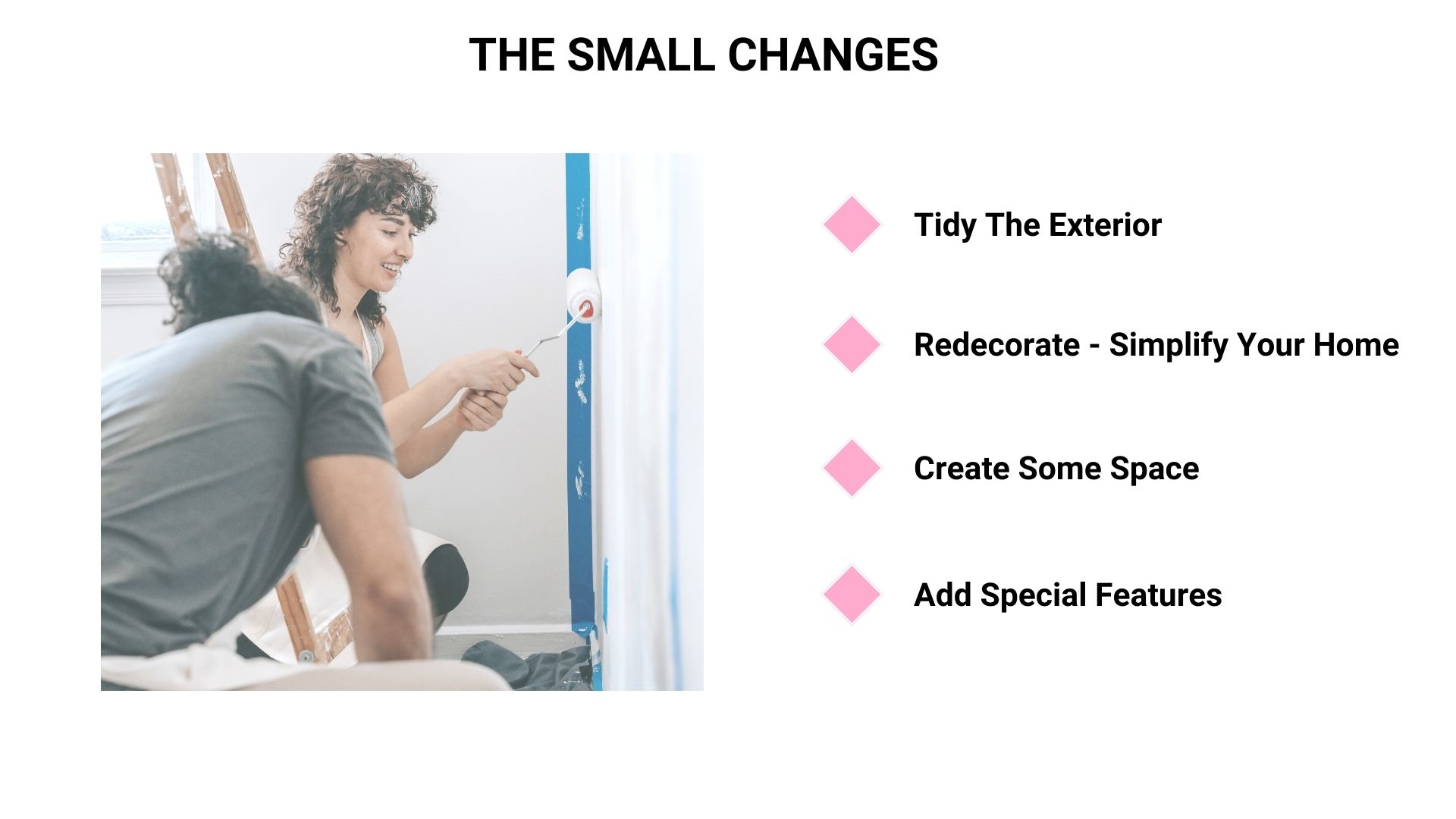 Whatever you choose to do, it is a good idea to speak to one of our agents about the sort of features that make the most difference when selling in your area. If you would like a valuation to find out how much your home is worth now you can enquire here.
Our expert Valuers will be able to help give you a current market appraisal as well as local knowledge and advice to potentially up your value!